BE AN ASTRONAUT AND DARE TO LEAP!
OUT NOW ON PC, PS4 and Xbox One!
Deliver Us The Moon is a Sci-Fi thriller set in an apocalyptic near-future where Earth's natural resources are depleted. In an effort to solve the energy crisis, global powers created the World Space Agency and secured a promising new source of energy on the moon.
The World Space Agency colonized and operated from the moon until one fateful night all communications with Earth ceased and the energy source was lost. Now, years later, you assume the role of Earth's last astronaut on a do-or-die mission to investigate what happened and save humanity.
During this adventure, your only companion is a small robot named ASE. Together you will traverse the moon, explore abandoned facilities, gather clues and ultimately uncover the secrets and hidden agendas of those long gone!
Will you save mankind or be forgotten in the dark abyss of Space?
The Physical release on PlayStation 4 and Xbox One will be taking place in August 2020.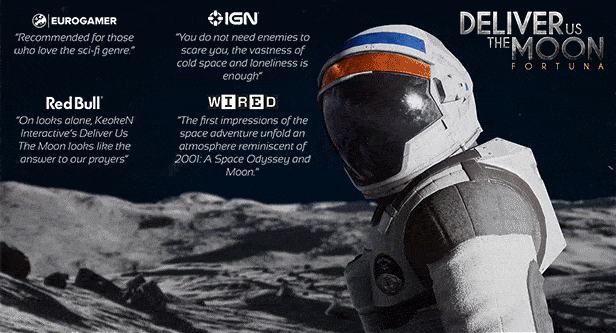 Key Features
Real World Issues
The narrative focuses on topical issues, like climate change and the depletion of the world's natural resources.
Multiple Gameplay Styles
Experience sequences of 1st and 3rd person play, as Deliver Us The Moon takes you on a genre busting narrative adventure.
Be an Astronaut
Launch a rocket from Earth, journey through the WSA space station and explore the open lunar landscape with weightless freedom - by foot, rover or monorail.
Uncover the Past
Ruins of previous lunar missions have many stories and secrets to tell. Use your Astrotool to uncover the history of the lunar colony.
Suit Up with Space Age Tech
With the ASE drone as your sole companion, utilise the greatest technology mankind has to offer from new age space-suits, cutting lasers, rockets and robot arms.
Survive Hazardous Environments
With oxygen tanks running out and the never-ending void of Space staring you down, staying alive won't be so easy.
RTX ON
Deliver Us The Moon utilises the full potential of the latest version of the Unreal Engine 4, alongside Microsoft DirectX Raytracing and NVIDIA DLSS technology, to deliver stunning real-time ray tracing and global illumination and one of the most graphically immersive worlds ever seen from an independent studio.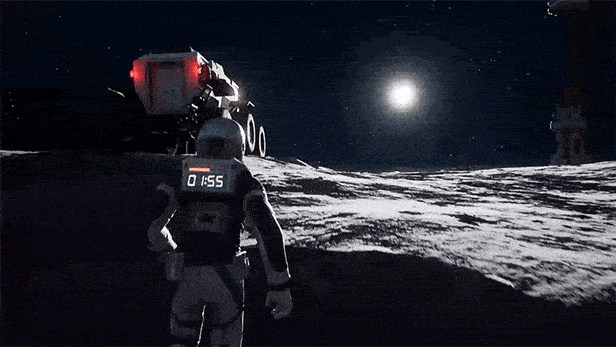 Quotes
"You do not need enemies to scare you, the vastness of cold space and loneliness is enough"
IGN

"The first impressions of the space adventure unfold an atmosphere reminiscent of 2001: A Space Odyssey and Moon."
WIRED

"It does such a good job of delivering heart-racing moments, desperate attempts to reach oxygen supplies before time runs out so compelling that I found myself leaning ever closer to the monitor in the unconscious hope that it would somehow get me there faster."
Rock Paper Shotgun
Languages (Text)
English | French | German | Polish | Italian | Spanish | Russian | Korean | Japanese | Simplified Chinese
Languages (Audio)
English | French | German
About KeokeN Interactive
KeokeN Interactive is a young Dutch Indie game development company which was founded by Koen Deetman, Paul Deetman and Johan Terink in 2013. The firm was born out of the passion for developing great and engaging 3D game experiences. The unique elements of the gaming industry show that the possibilities seem to be truly endless and that the limitations are only bound by one's own creativity.
Rating
Copyright
Copyright short Deliver Us The Moon © 2020 KeokeN Interactive. Published by Wired Productions Ltd and developed by KeokeN Interactive. All Rights Reserved.